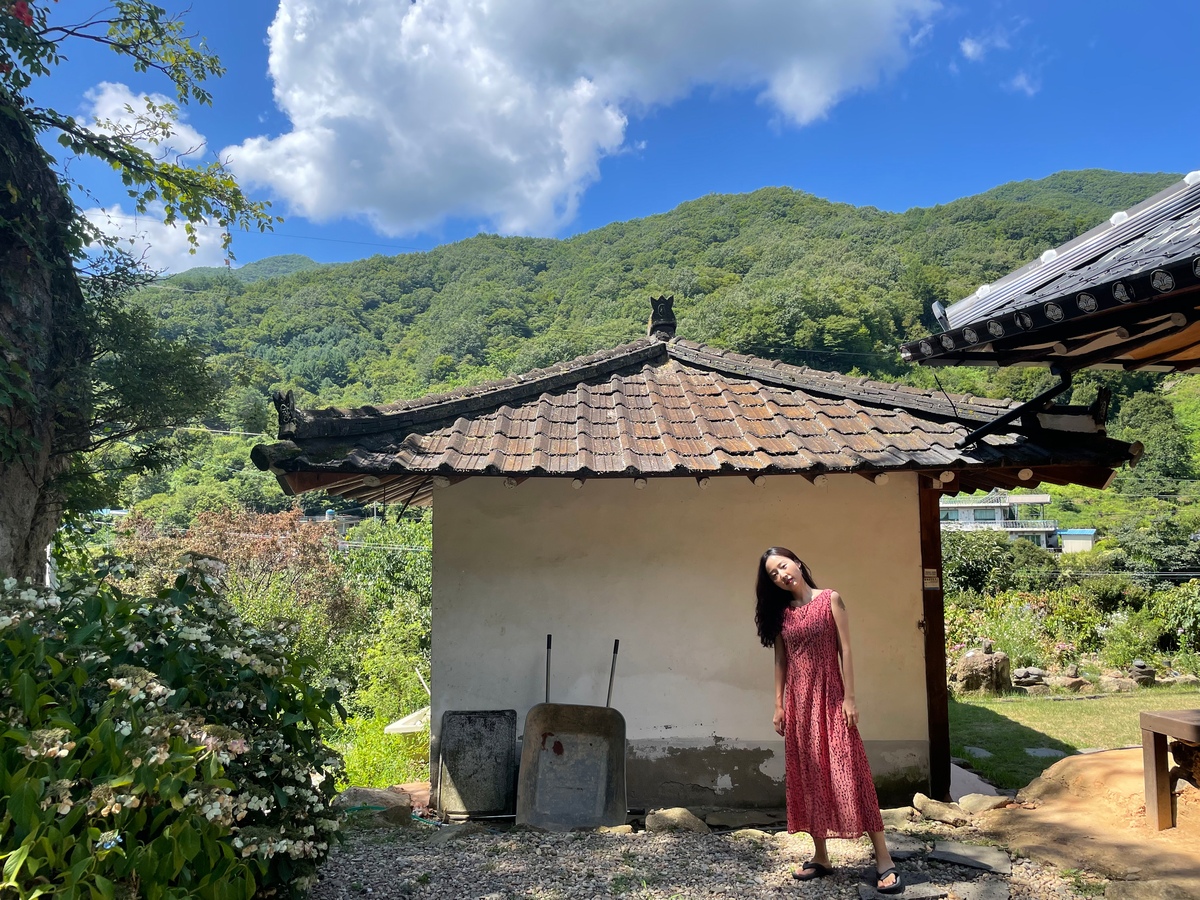 Hi there! This is Mi-hyun, freelance writer and content creator who loves to turn a hobby into a career. Living with mom, creating and decorating a dedicated space for some privacy and alone time have become very important for me.
Let me walk you through my room which I like to call "Mi-hyun Only", filled with items and furnishings that reflect my taste and personality!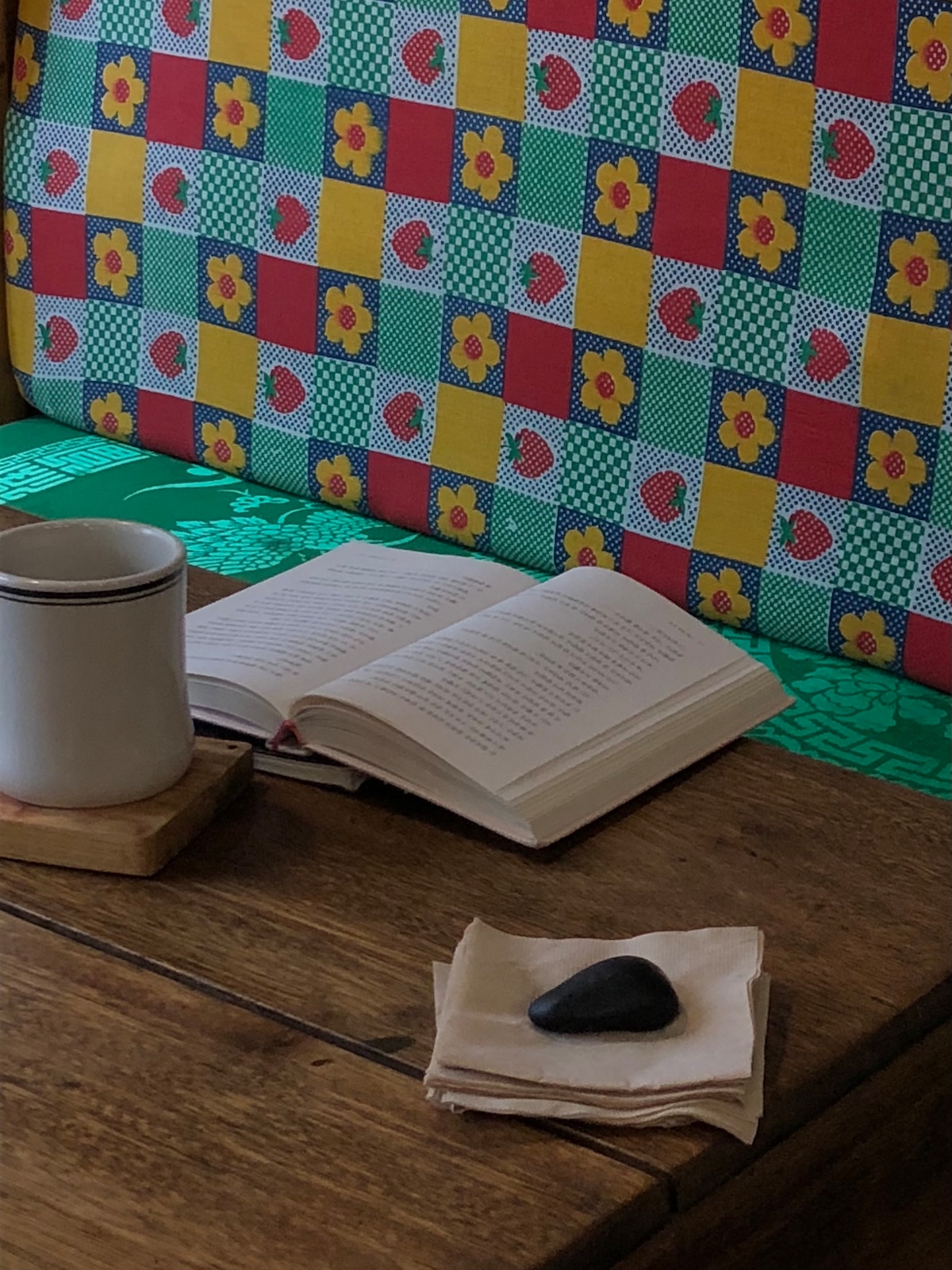 ⚡️3 Secs Shortcut!
Floor Plan
My family moved to this 1174-square-foot house last summer, stepping into the entrance my room is in sight. 🧸
Making the most of a small room
One of the most important factors in designing my small room was the arrangement of furniture.
Including the built-ins, my room is about 107 square feet which is just enough to use as a bedroom only but quite small for allocating separate spaces for work and rest. So I had to figure out ways to max out on comfort and function while making it look bigger.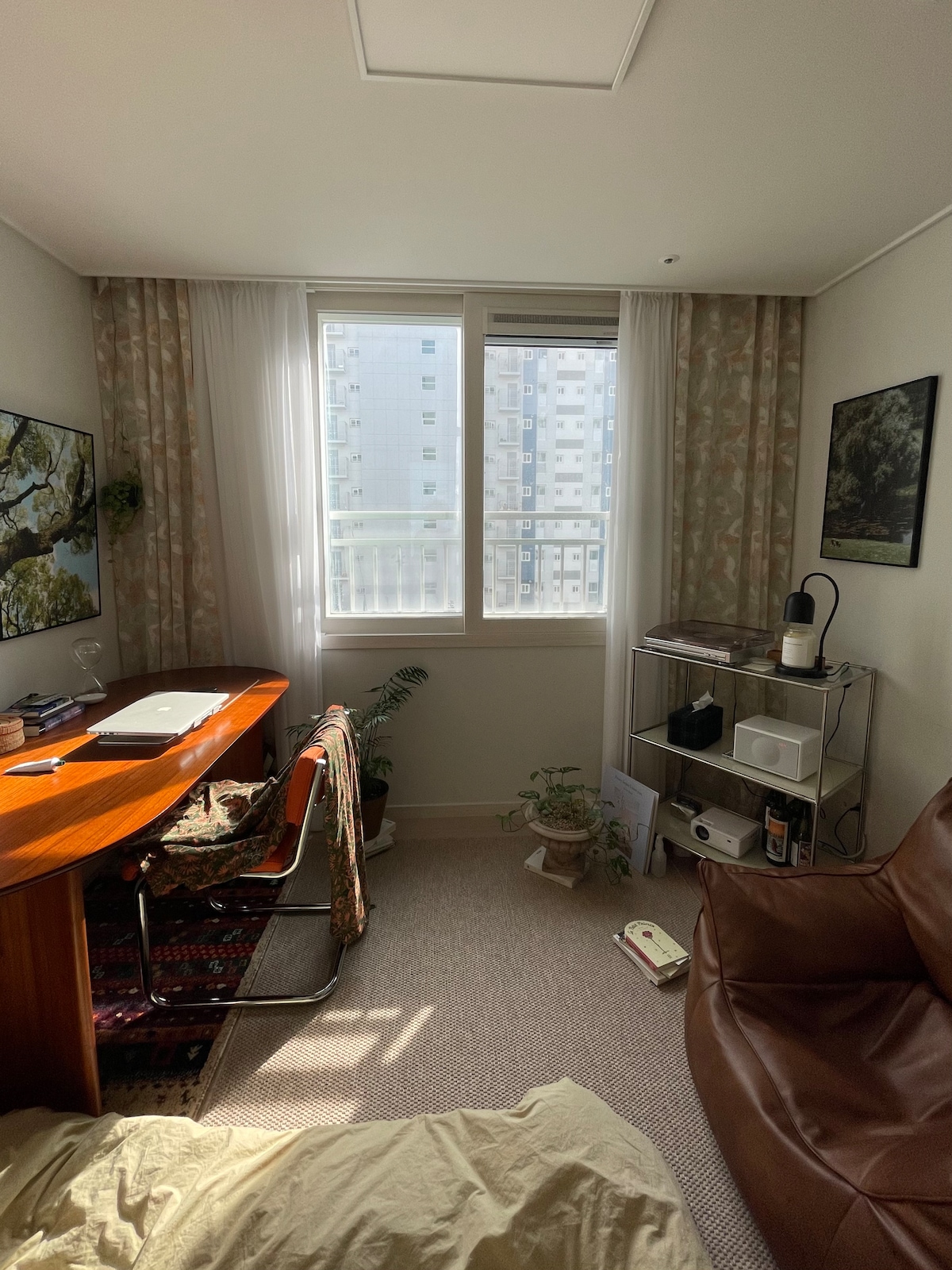 I laid a rug with an ethnic pattern and a beige carpet to add a decorative accent and warmth.
Over the past months…
It's been nine months since we moved to this house, and I've moved the furnishings from place to place and tried many different arrangements to find a perfect layout.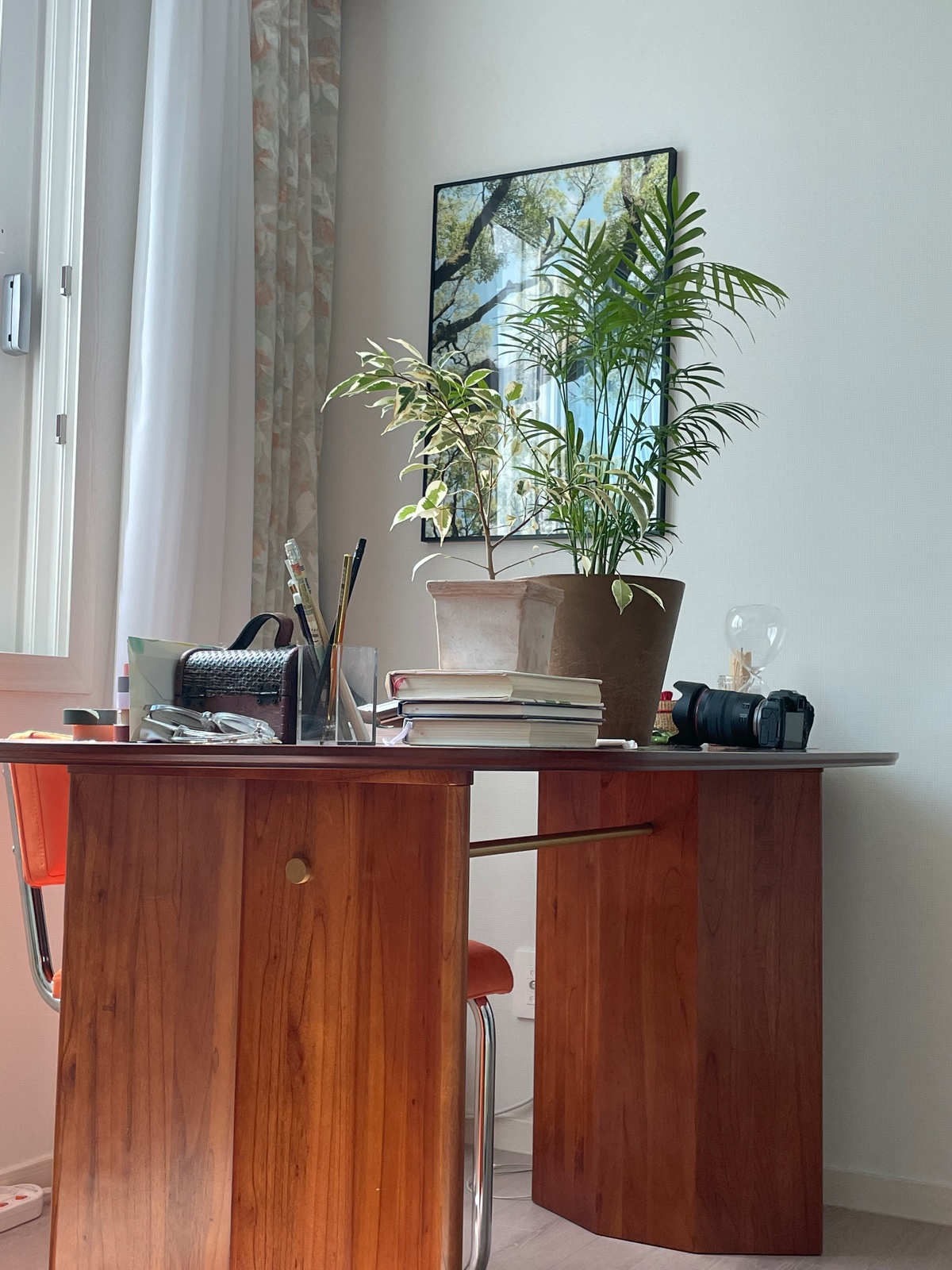 The desk used to stand against the windows, but it made the room look smaller.
It ended up being pushed right up against the wall. This is before I got a bean bag chair and was divided into the workspace on the right, the sleeping area on the left.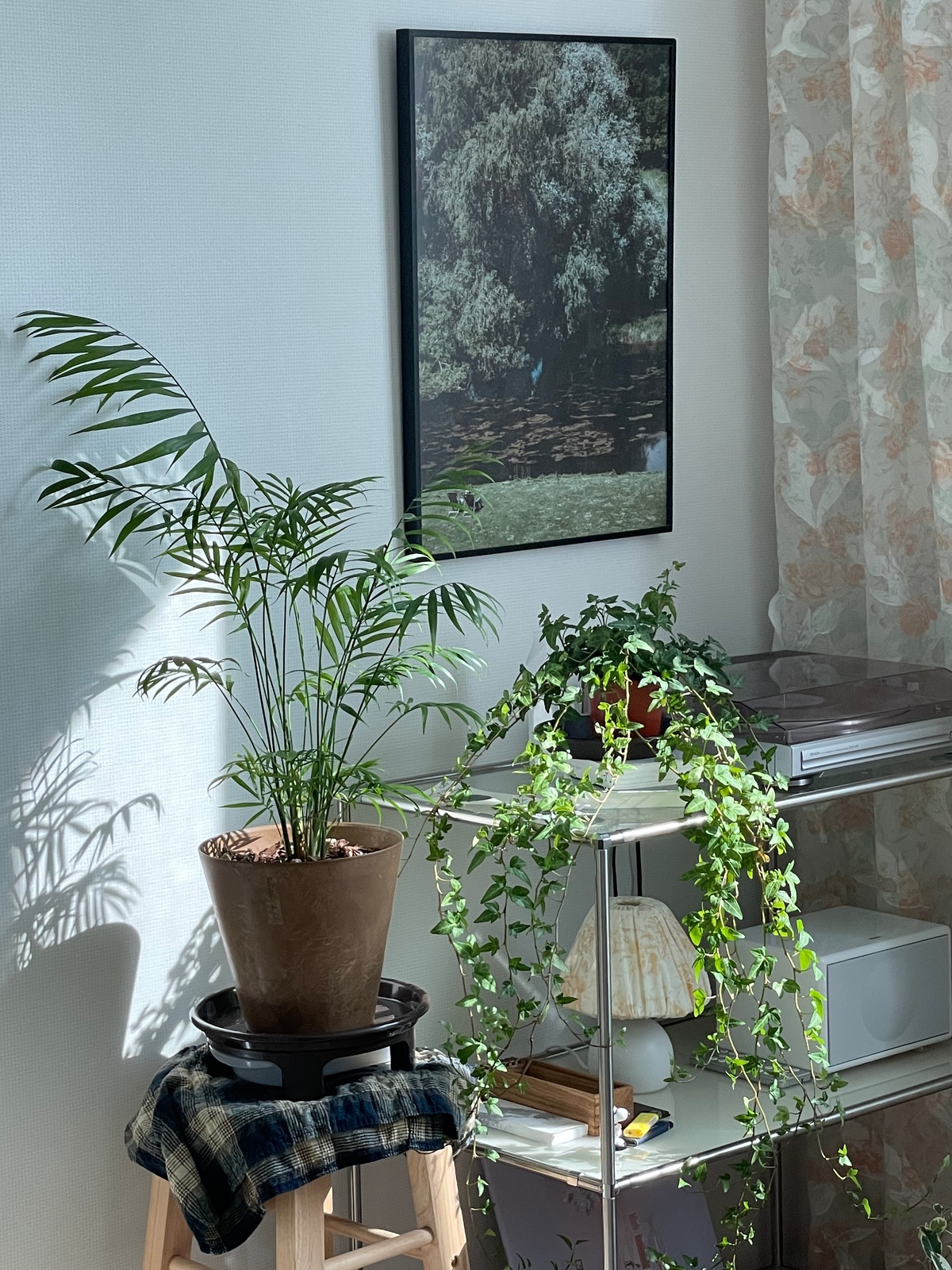 I really adored the ivy hanging down loosely over the shelves. 😂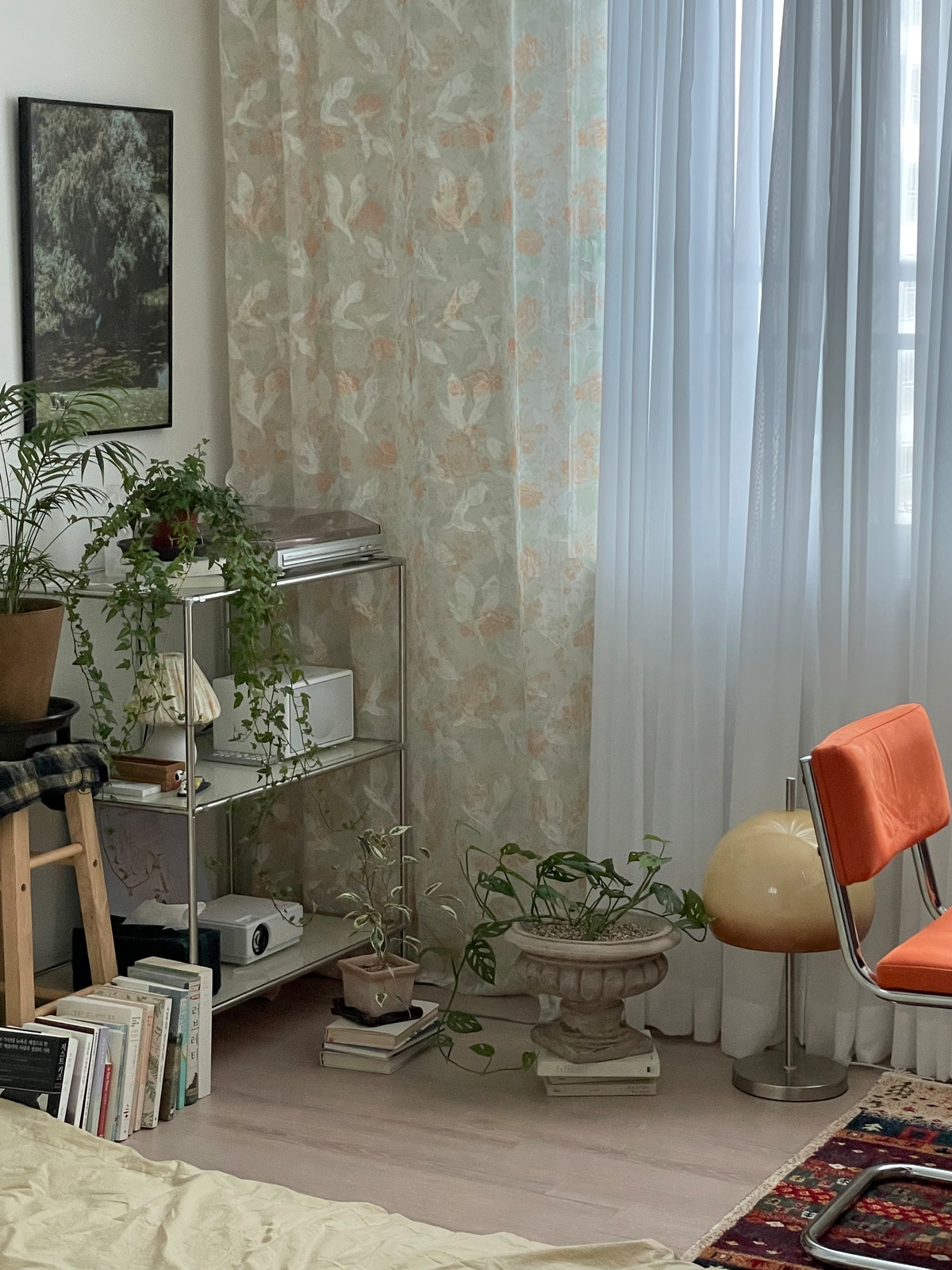 This arrangement had stuck for quite a long time, but the lamp is now gone for good (Ugh, I knocked it over last winter!) I've been waiting for the next perfect lamp. In fact, I don't like rushing into buying a new piece that's really cheap or following the latest trend because I tend to "make do and mend" when it comes to home accessories and furniture.
Working Area
where every possible desk work is done – habitual writing, editing videos, reading books…
Here's my workspace on the left corner.
As I spend most of the day at the desk, the first things I looked for when moving in were the desk and chair.
The ones I'd been using since my college years are very old and cheap, so I tried to find much sturdier ones.
I love this color hues giving a fresh yet cozy feel throughout the room.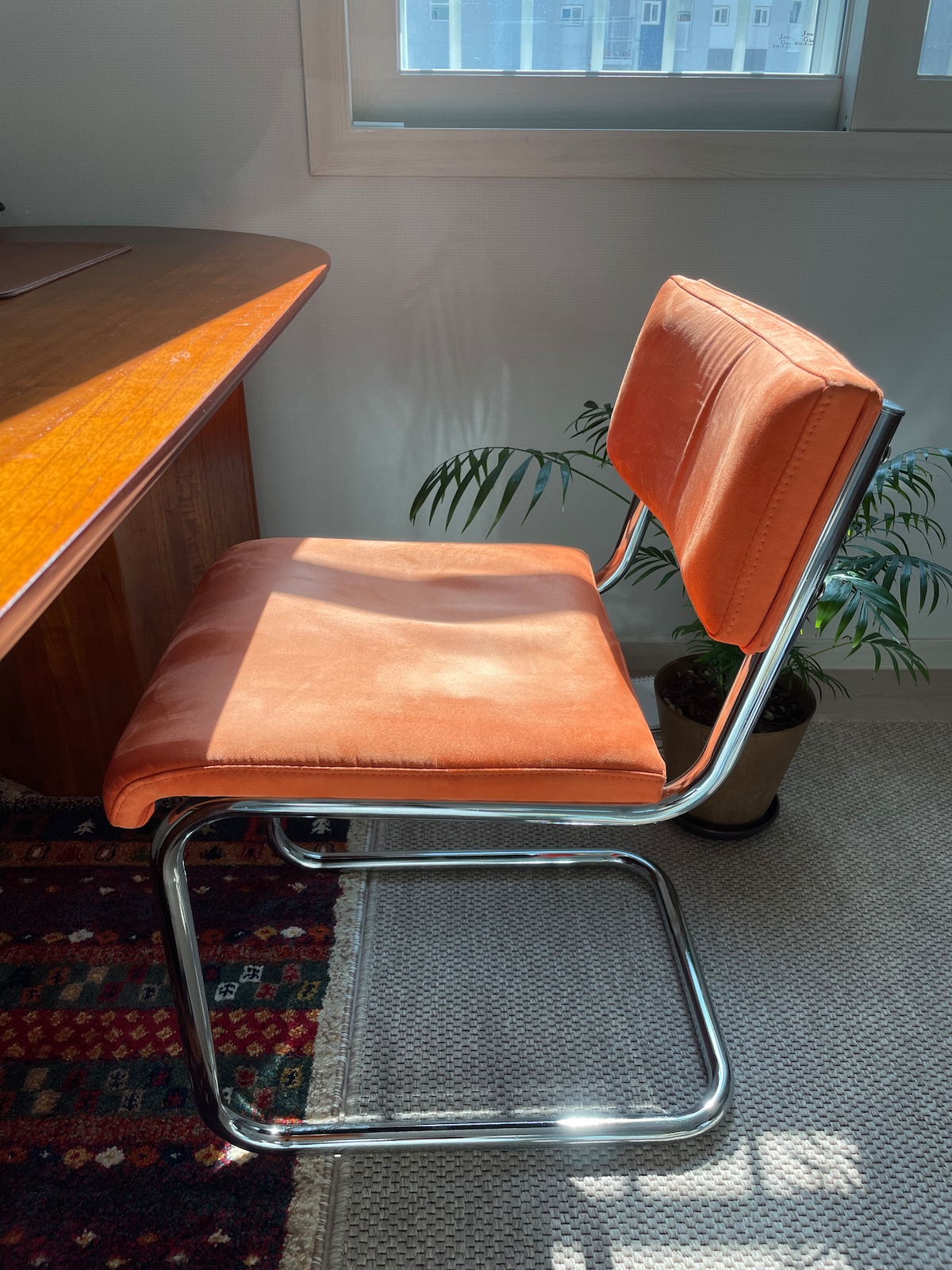 I especially adore this orange chair. Most of the decor ideas I found from Pinterest used the color orange very cleverly! It goes well with my favorite color green while adding a decorative accent in the room.
My rug and fabric with a pinch of orange giving a solid presence!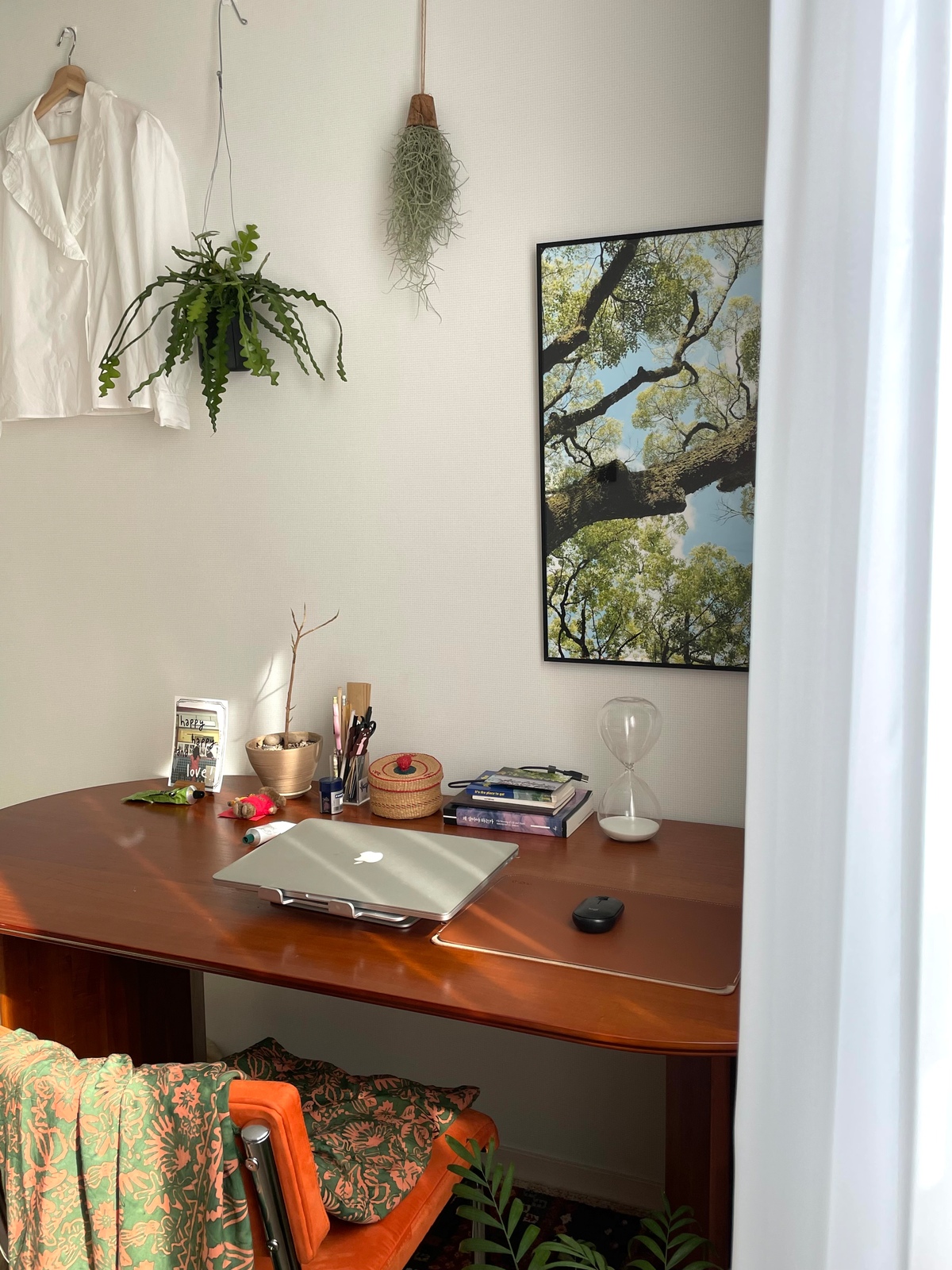 Usually I keep the surface clutter-free to leave it clean and tidy. Seems like they're just randomly placed on the desk, but all of the items are arranged based on my own system.
As you can see, this desk features three distinct sections: the laptop zone in the middle, the diary zone on the right (with journals, notebooks, books, office supplies, etc.), and the hourglass on the left. If I have something to devote myself to, I made it a rule to flip the hourglass and not look at the phone for at least an hour.
🧸 Reflecting my pattern of life, Decluttering useless stuff
Of course making the room pretty and stylish is important, but I care more about keeping it practical and functional, considering my own pattern of life. So even a really small accessory is arranged based on the frequency of use to create the most advantageous layout.
Also, I tend to avoid buying new stuff just because it's pretty. I must find a good reason, good enough for myself, to bring in something new. But again, the so-called "good reason" means as long as it's fit for me and physically represents myself. Sometimes I buy things simply because they make me feel good, whereas I still don't have a single clock in my room given that I don't really look at the clock.🍊
Resting Area
where I read a book, listen to music, drink beer, watch videos…
The bean bag chair is the latest piece in this room.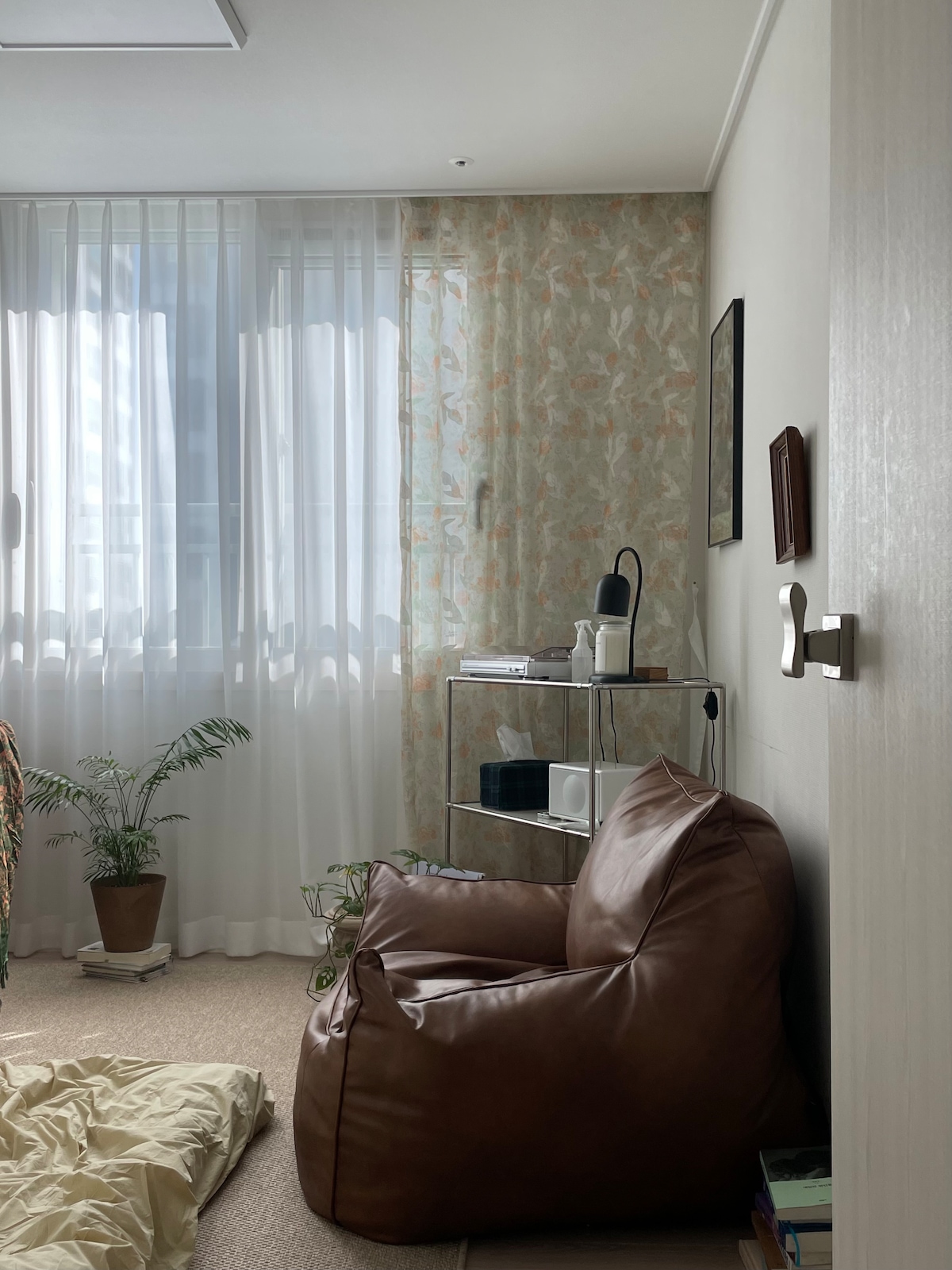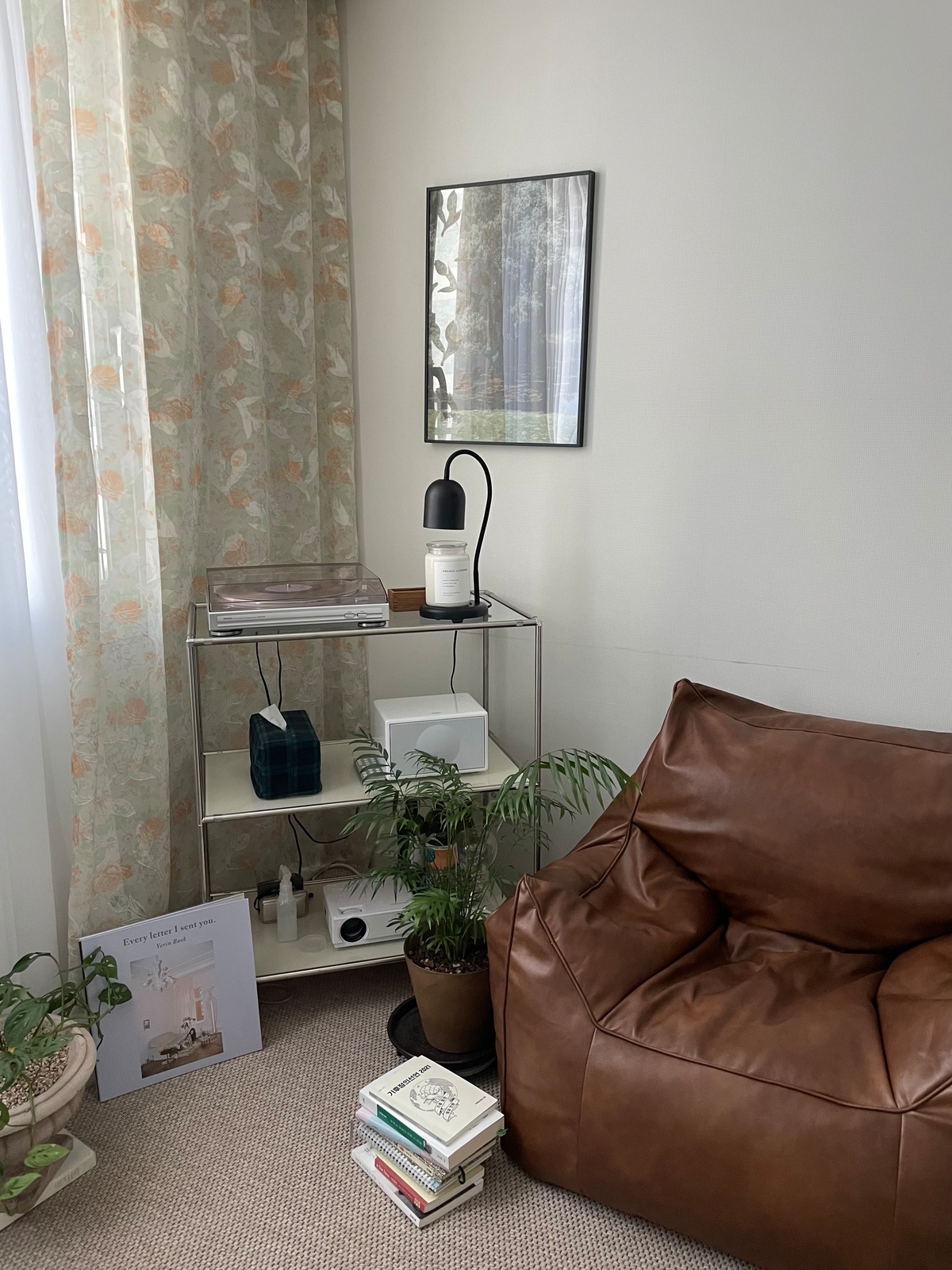 I got it to find myself a cozy nook for reading a book.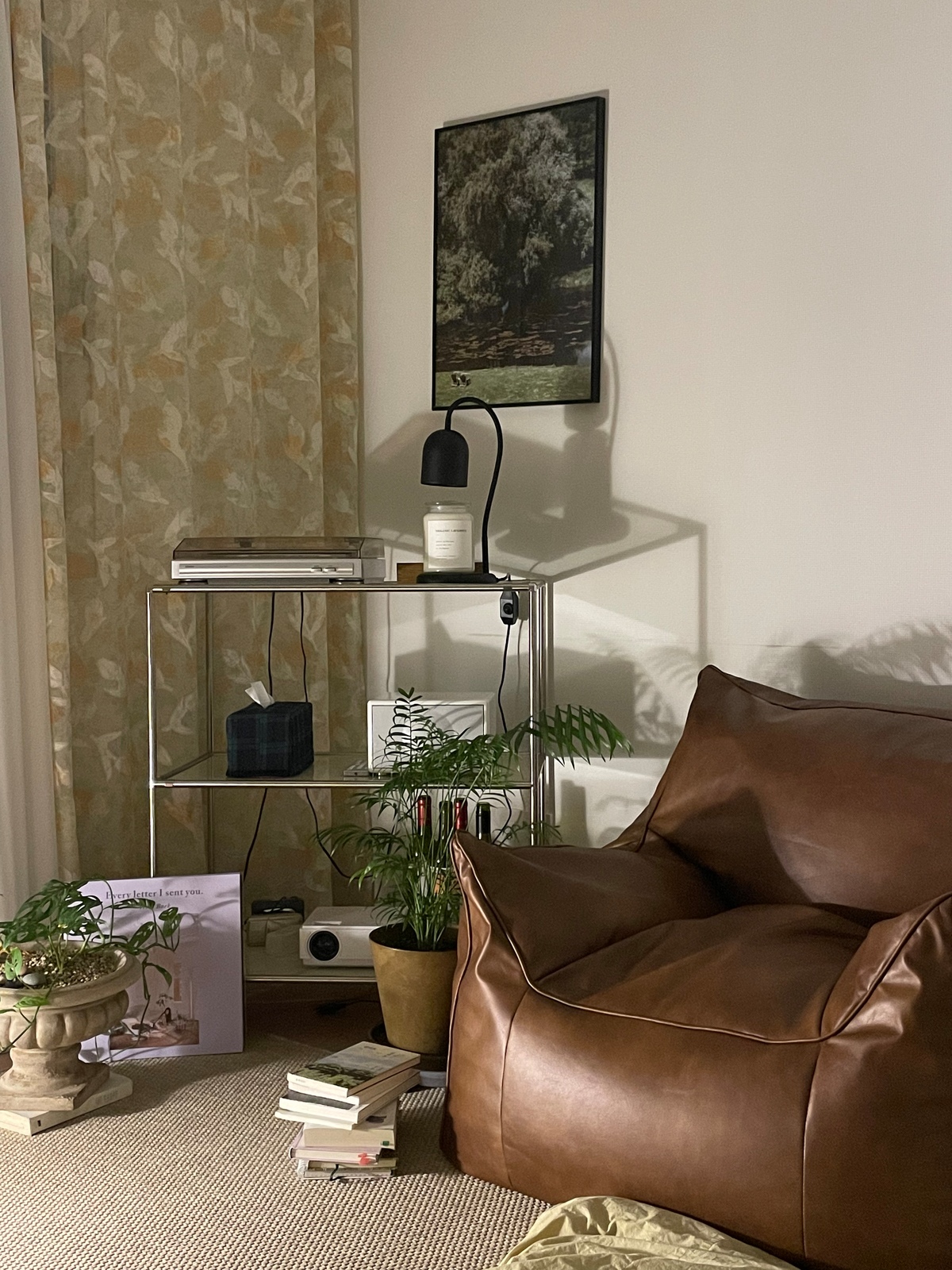 After having this chair, I decided to carve out a small space in the corner for a resting area and change surrounding arrangements.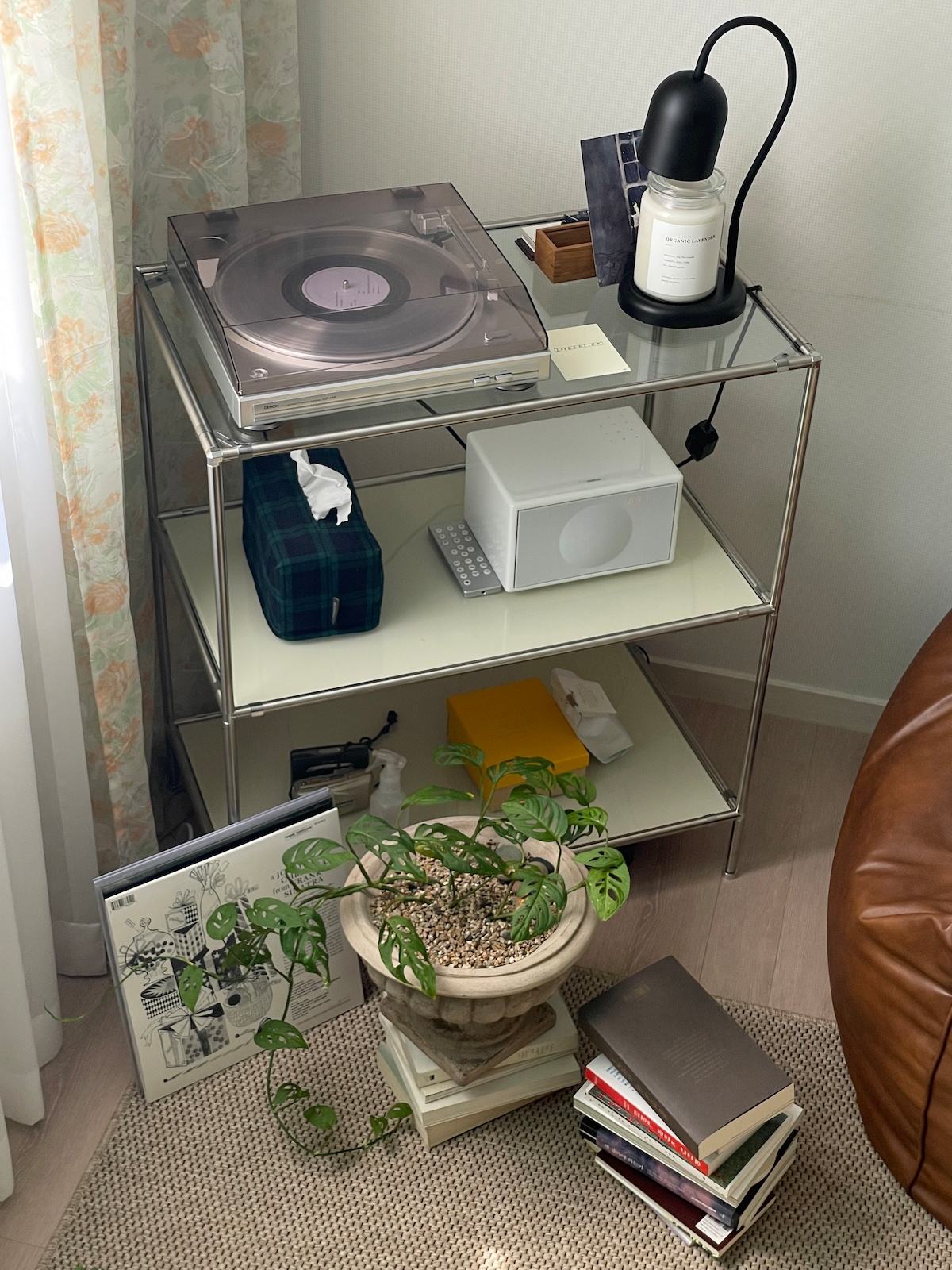 The modular shelves with a turntable and speaker above were moved to the far right and placed the chair just beside to take a rest while listening to music or reading a book.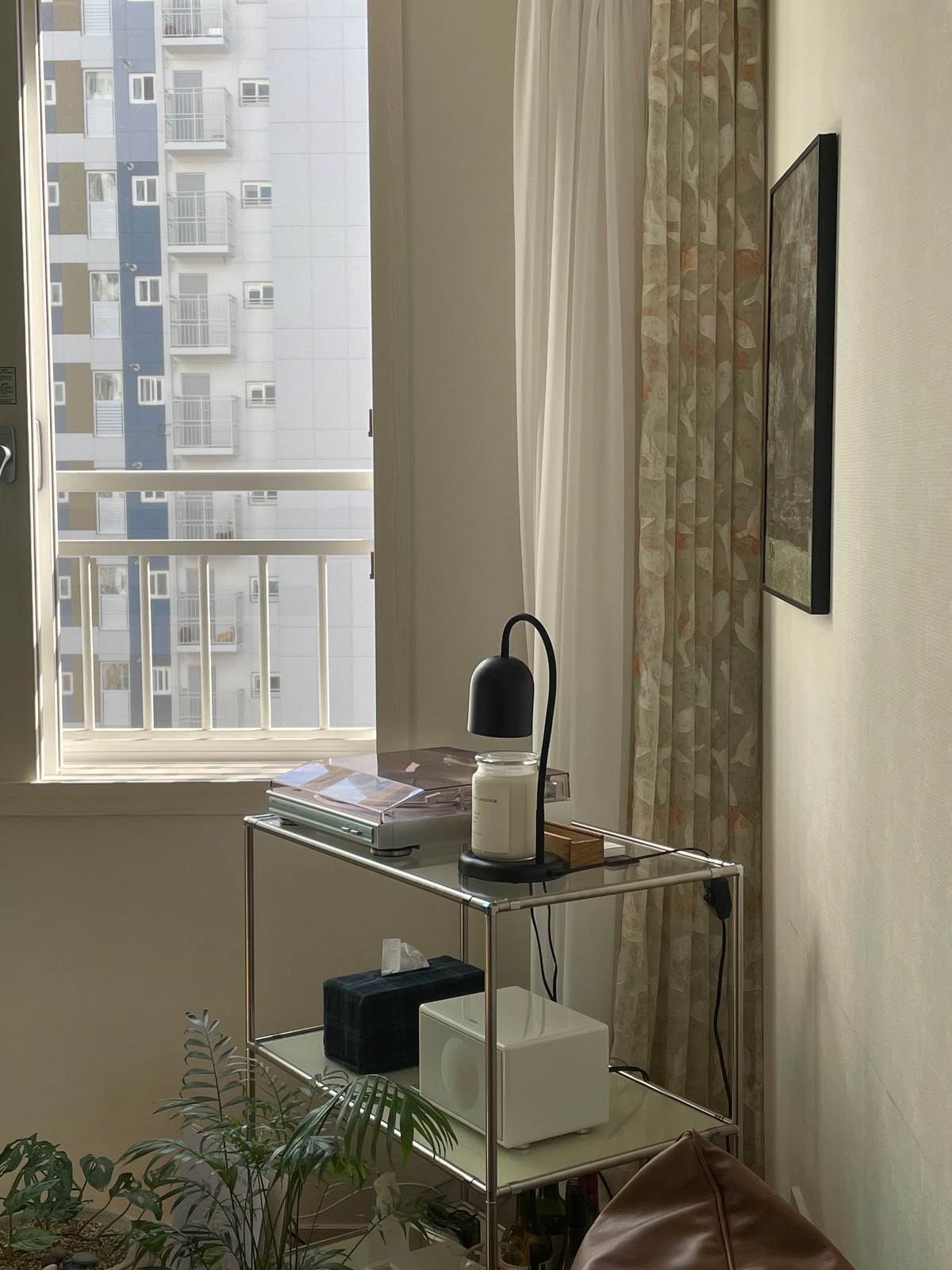 The candle and warmer are always on after dark till I fall asleep. The incense sticks behind are lit on clear sunny days.🌞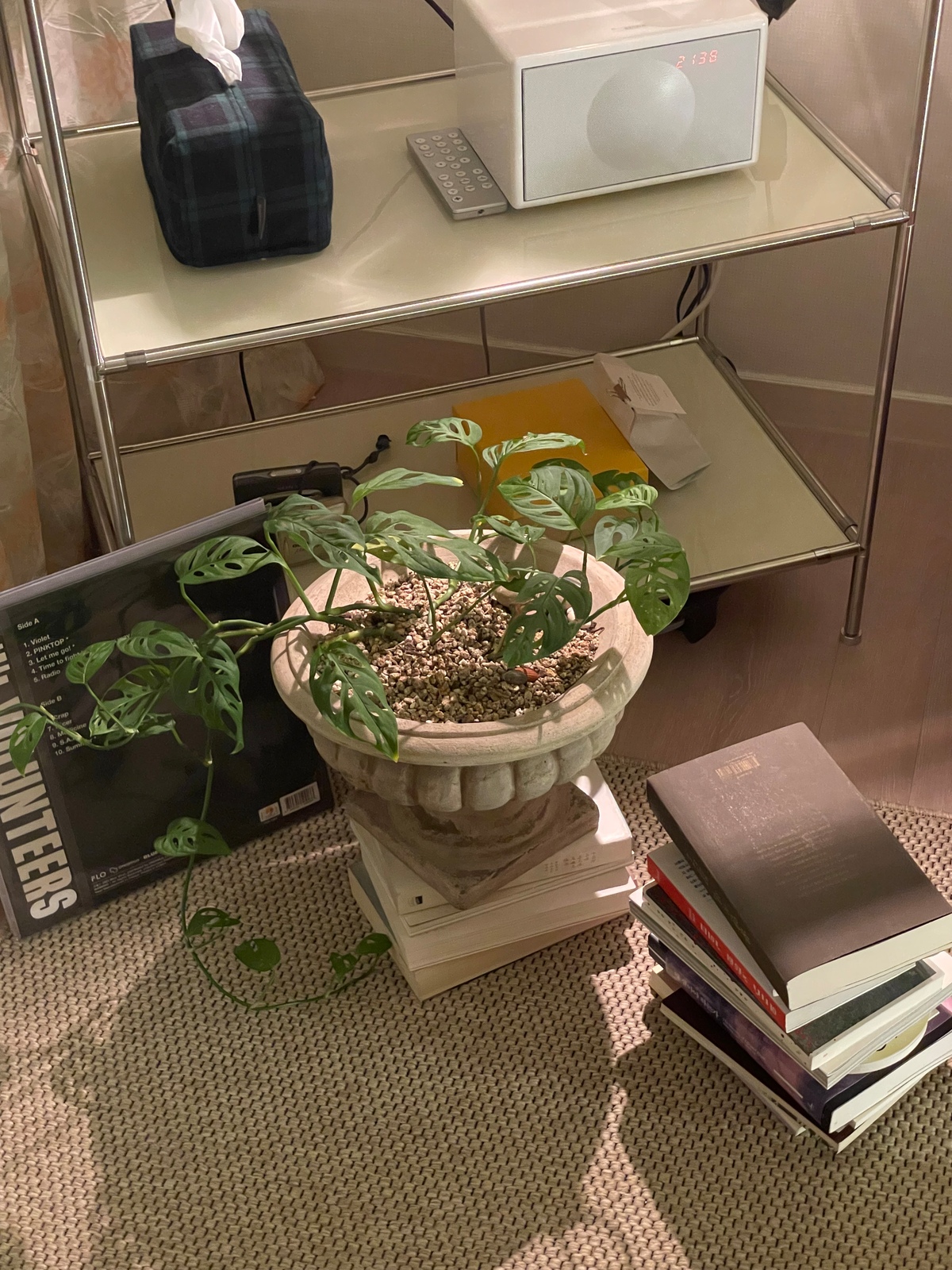 By the chair are books I've read and will read. I would pull out books I want to read again or newly bought from the bookcase in the other room and pile them up here.
These frames pictures of a lush tree and woman embroidering match the relaxing vibe around the resting area.
The wood rack mounted on the wall by the chair hangs Tillandsia and baseball caps, or pajamas and clothes for tomorrow.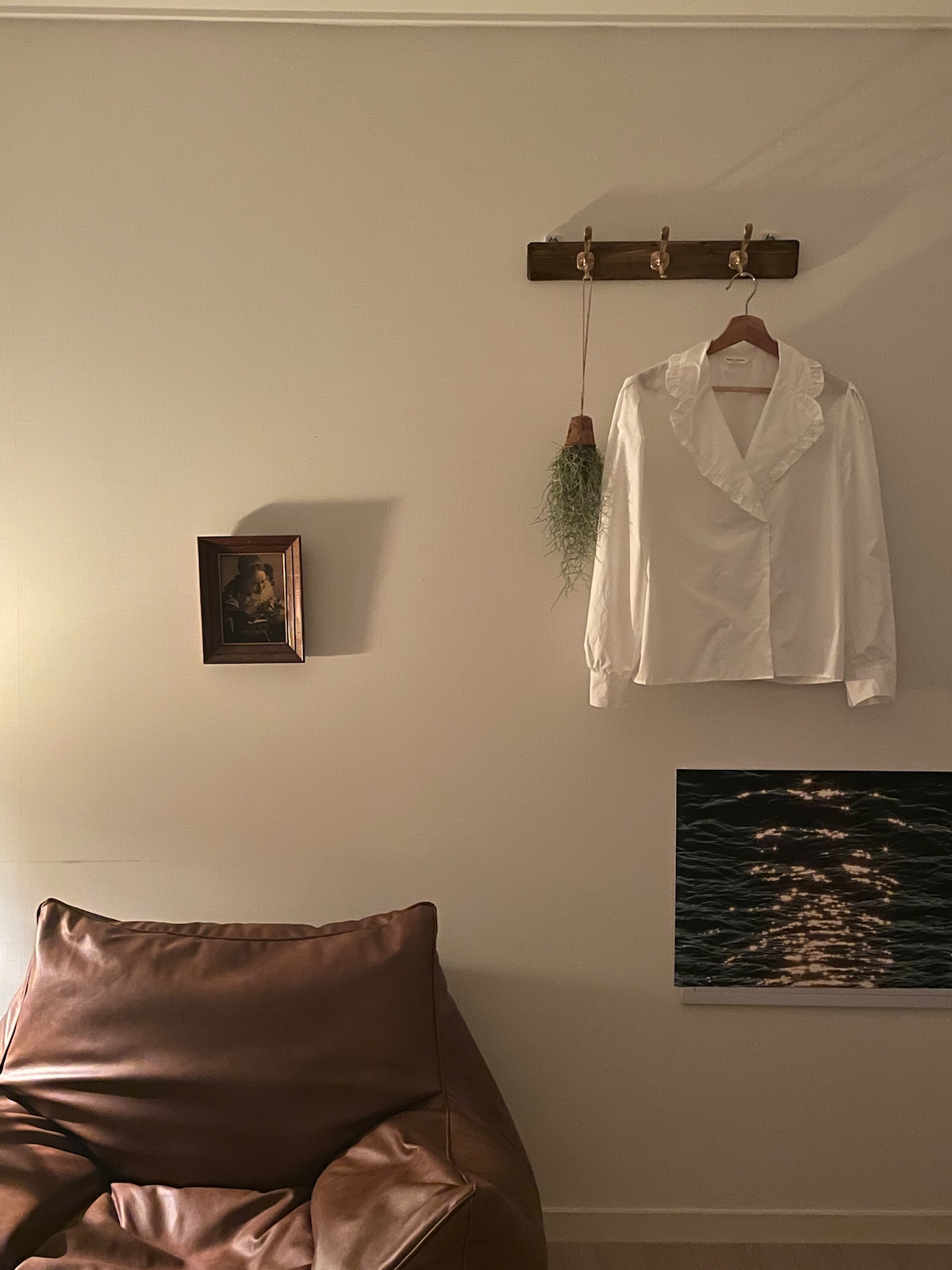 In fact, the wall poster beneath the rack is there to cover a switch box.
Sleeping Area
where I loaf around or drift off to sleep
The sleeping area is the most confined space in this room. Trying to fit in all the stuff in a compact room left not much of a space.
Since I'm more used to sleeping on the hard floor, there's no bed or mattress. Instead, I sleep on a comforter laid directly on the floor. As I love working by the sunlight streaming through the windows, this space had to be pushed far to the left, farthest from the windows.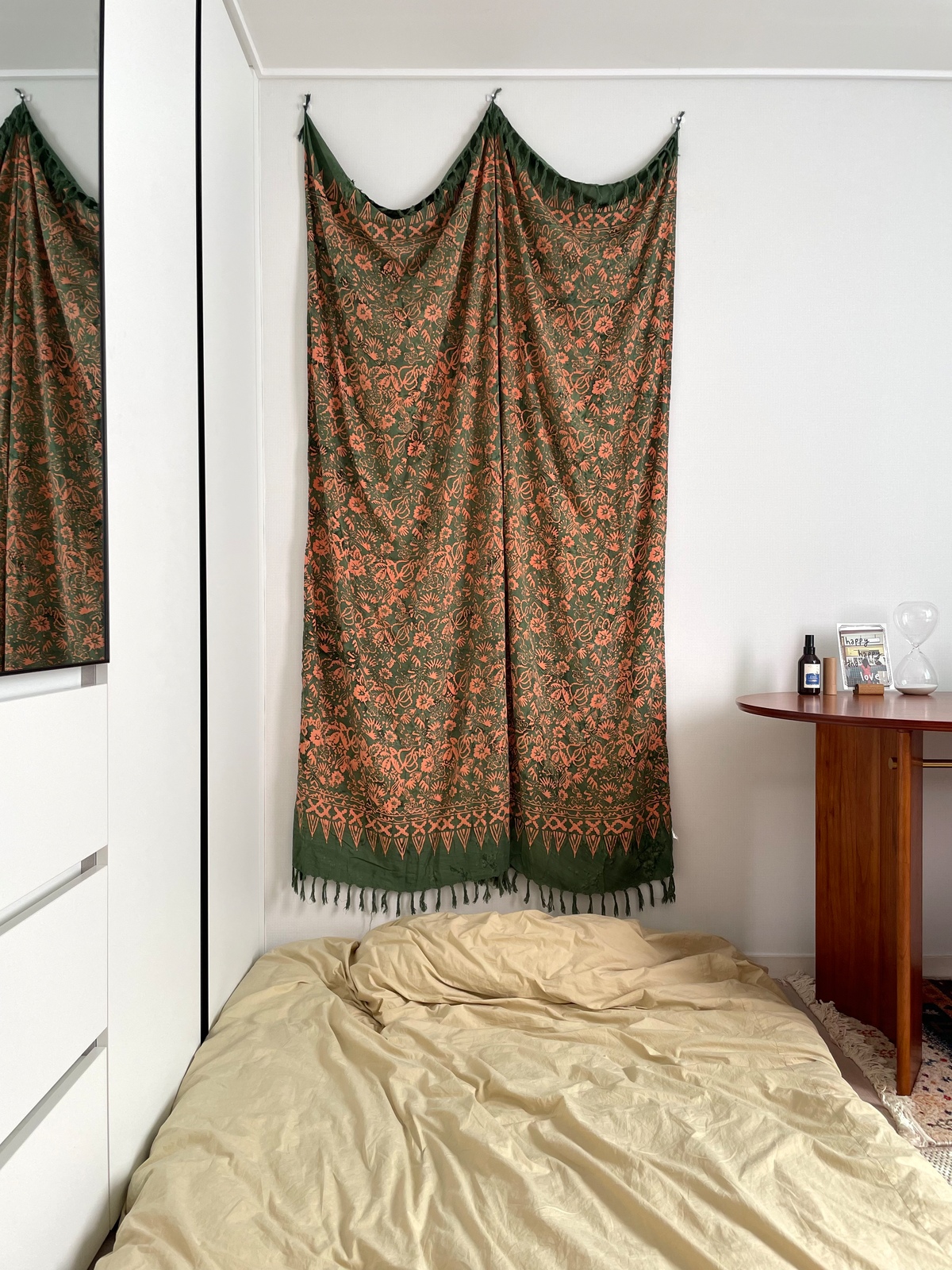 I put up a large decor fabric on the wall to kind of section off the sleeping area. BTW, the fabric from Matt and Mel is such a multi-purpose item, making an ideal choice for a drapery, bedding, tablecloth, chair cover, and even picnic blanket. Lately, it's been working as a fabric wall art, bringing warmth to this area.
A room with houseplants
I love decorating the room with indoor plants, but there's always not enough space for letting them in as many as I want.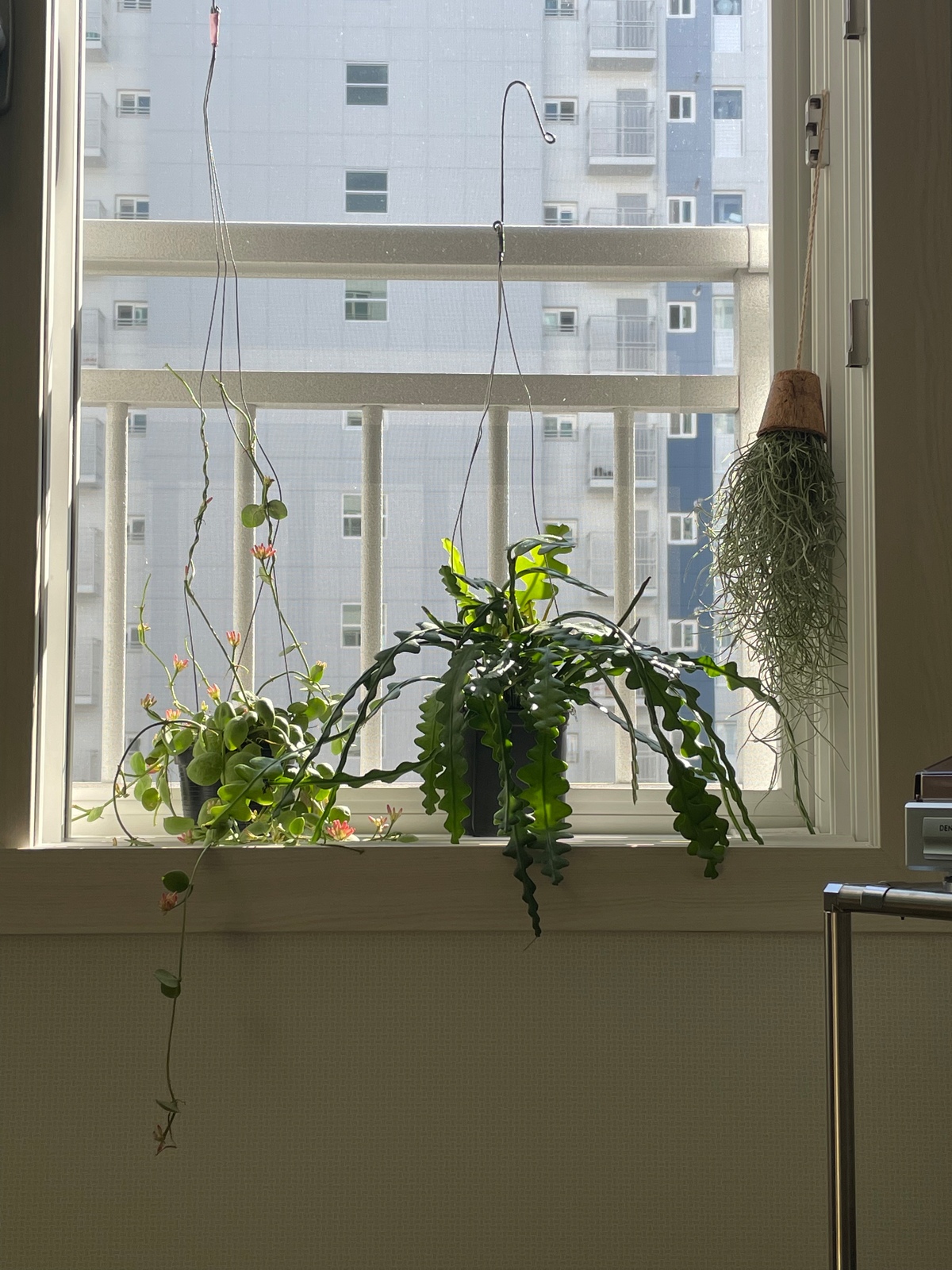 Although currently there are five of them, five more had seeped away.
The remaining ones are all easy to grow and maintain.
Every morning I mist with a spray bottle and ventilate the room, watering them only once a week.
Epilogue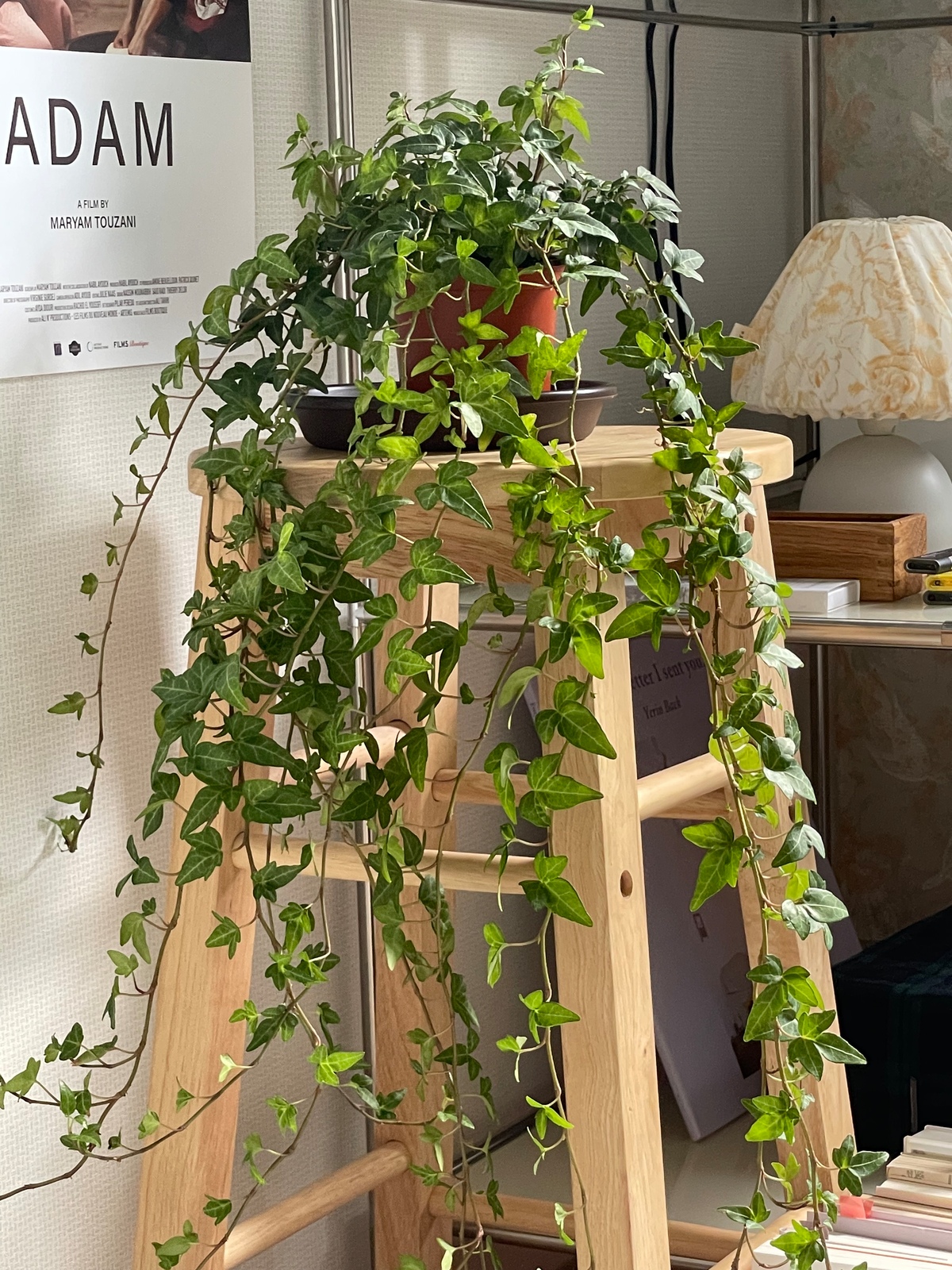 This brings me to the end of the tour. The days are getting longer as summer approaches, and I'm looking forward to the sunny days enjoying warm weather with the windows wide open! Thank you all for joining me today, please come again!